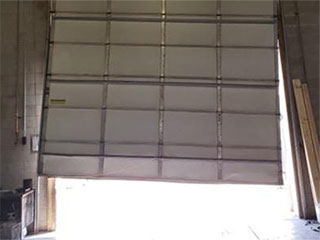 Some problems you can often see coming. Others you may not, but you can deal with them until you have time to schedule in a technician. But some malfunctions, you need immediate help with. For these unexpected issues, we provide the fastest emergency garage door repair services in the Encinitas area. Whether it's a broken spring you need to replace or a garage door off track, our local repairmen can get the job done on the spot. We come prepared with garage door replacement parts to solve any problem that same day. No need to wait around for days or even hours. With a quick phone call, one of our local technicians will be on the way.
Garage Door Broke a Spring
This problem is quite common, unfortunately. Very common. When a garage door spring breaks, it essentially disables the system's safe movement. You might still be able to use a garage door with broken springs, but you really shouldn't do it. Without these counterbalance and support measures, more load and stress get put on the cables and opener drive mechanism. So they too can break very quickly. Broken garage door spring replacement can be dangerous business if you're not careful. And especially if you've never done it before or know how these mechanisms work. But don't worry. You can just call for emergency garage door repair services and our Encinitas technicians will get to you ASAP. No need to try any dangerous DIY fixes. Your door will be good to go again in no time.
Roller Popped Out Of Misaligned Track
The infrastructure that allows the garage door to move in a straight and smooth way can also experience issues. If your garage door gets stuck, often the tracks or the rollers have some sort of a problem. With track misalignment, the rollers get stuck on their up. Sometimes, garage door rollers can pop out of the track because of bending, rust, or damage. Whatever the case, we can fix the issue and reinsert the rollers so the garage door can move with no issues again.
Fastest Garage Door Repairs Near Encinitas
With emergency assistance offered daily, including weekends, you always have options when something breaks down. Our local garage door repairmen help customers deal with simple and complex unexpected problems every day. Covering a huge service area, we're able to offer same day service to any nearby region. So call Garage Door Repair Encinitas whenever you need a quick, affordable fix that lasts a long time.